A saree look can never disappoint you. They are always in trend, only the draping style and embroidery work changes timely but the love for saree remains the same. 
If we go through the latest trends then shimmery and colorful sarees are ruling the fashion right now. 
Everywhere you see you will find a cool and voguish metallic saree which will just allure your heart. 
This six yard garment has no competition. It is the most ancient, most loved and the utmost minimalistic all time favourite outfit of every lady.
Pastel and muted colors are on hype nowadays. They look embellished when worn with a matching blouse and some pretty accessories. 
Here are some of the latest trends which will upgrade your traditional saree look and make you look even more stunning. 
Metallic Cocktail Saree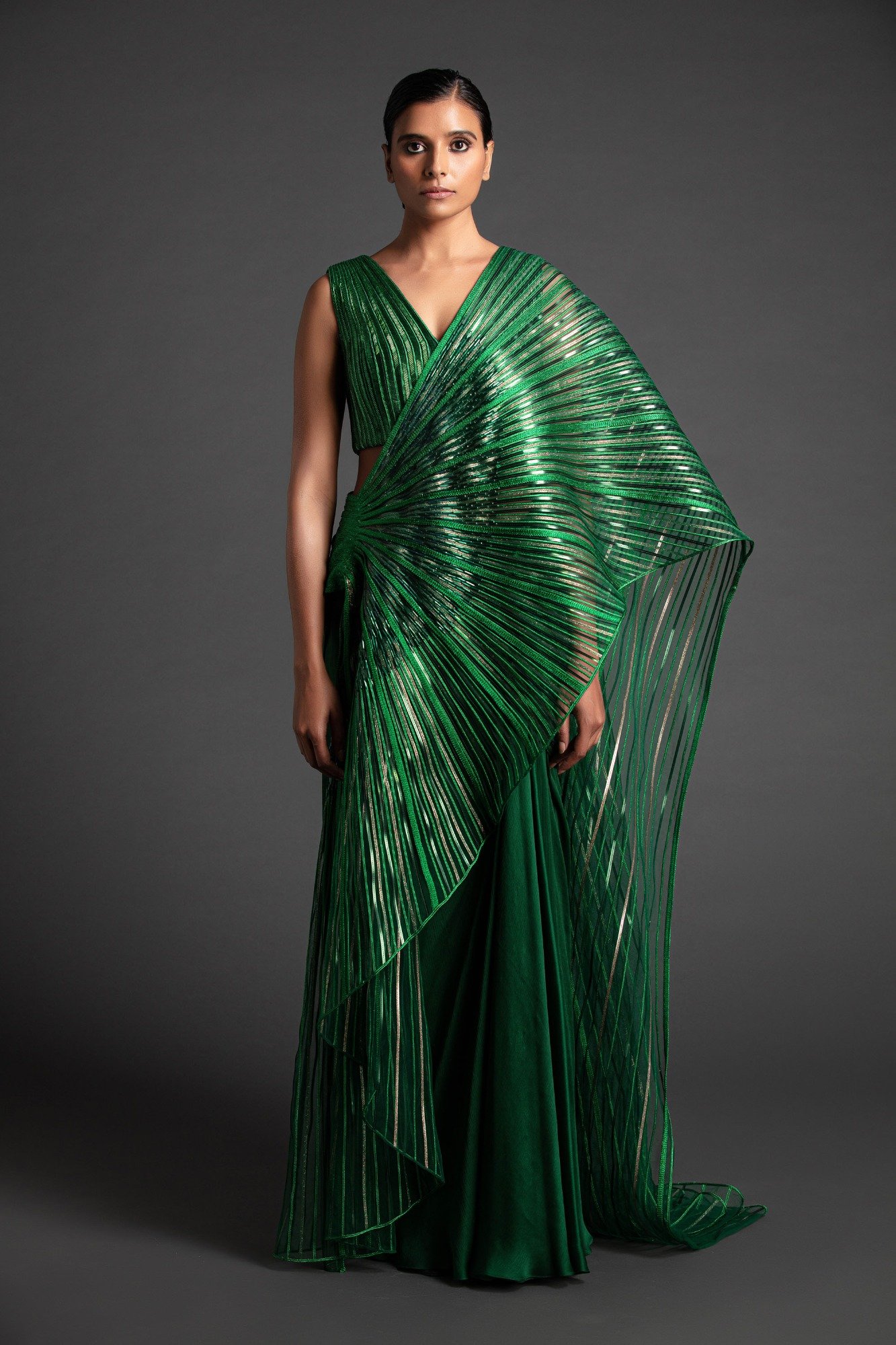 The metallic cocktail sarees are the most trending and prettiest ones nowadays. They are usually a double fabric saree having some drastic pallu patterns and a slim fitted saree pleats which gives a taller and slimmer look whenever you wear it. 
This beautiful saree with striped pallu and a simple plain hem at the bottom makes it a perfect choice for cocktail parties, reception parties and engagement ceremonies.
If you are the bride then you should surely go for this one and be one of the stylish brides of all time.   
Designer Net Saree
Net sarees are latest saree trends which are transparent yet have a smooth and silky texture. They are heavily embellished with different embroideries which may include thread embroidery, pearl embroidery, zari and aari embroidery and many more others. Sometimes lace embroidery is also done to make it look stunning. 
The weight, smoothness and texture of this saree depends on the textile from which it is made. Choosing the right color that is enriched with some graceful embellishments will give you a dazzling look. There are a variety of color choices in the net which range from brights to pastels.     
Pretty Georgette Floral Saree
Georgette is a lightweight flowy fabric which gives a sophisticated appeal to the wearer. It is a breathable and strong fabric which gives you an immensely comfortable appeal.
The ones that are decorated with floral prints and thin laces look graceful when paired with a plain blouse at different occasions.
The floral georgette sarees can allure your heart anytime. By pairing the right accessoires and blouse with the saree you can make your ethnic look more appealing. Open hair and a beautifully embroidered clutch completes your overall look.   
Shimmery Sequin Saree
Sequin sarees are perfect for a shimmery and shiny look. The sarees are available in single color, double color or some multi-color options from which you can choose your favourite one anytime. These sarees are now the trendiest pick of every woman. 
The sarees look amazing in pastel and muted colors as compared to bright colors. The shaded sequin sarees look great when paired with a matching plain blouse in sleeveless pattern. You can complete your overall look by adding a pair of bold and beautiful earrings to the outfit.   
Lightweight Organza Saree
Organza is a tissue like lightweight and breathable fabric which feels soft on skin and has an absorbent characteristic.
A printed organza saree having thin laces and borders at the pallu gives it a fascinating appeal. 
You can pair the saree with a contrast blouse or can wear it along a plain matching color blouse that makes a soothing combination with both.
Wear the slim fitted petticoat under the saree so that you can get a slimmer and taller look whenever you wear this traditional attire.   
Pastel Silk Sarees
Silk sarees can never be apart from the list. They have the most amazing shine and a silky texture that adds glamour to your ethnic look.
There are a variety of silk sarees ranging in weight, designs and patterns which makes some stunning sarees. 
If we go through the sarees catalog of silk sarees then you will come across plain silk sarees, banarasi silk sarees, chanderi silk sarees, kanjeevaram sarees, mysore silk saree and many more from which each saree is just so adoring that it is difficult to choose any one from them. 
Ombre Sarees  
In simple words, an ombre saree starts with a light texture and ends up with a darker texture which makes the saree look just super dazzling.
Starting from pastel pink and ending up to purplish pink is what you call a beautiful ombre saree. 
Pairing this sequin work saree with a velvet blouse and some pretty accessories helps you get a diva look.
Finalize the look with open hair, neutral makeup and a pair of heels so that you look perfect from head to toe whenever you wear this dazzling attire. 
Ruffle Sarees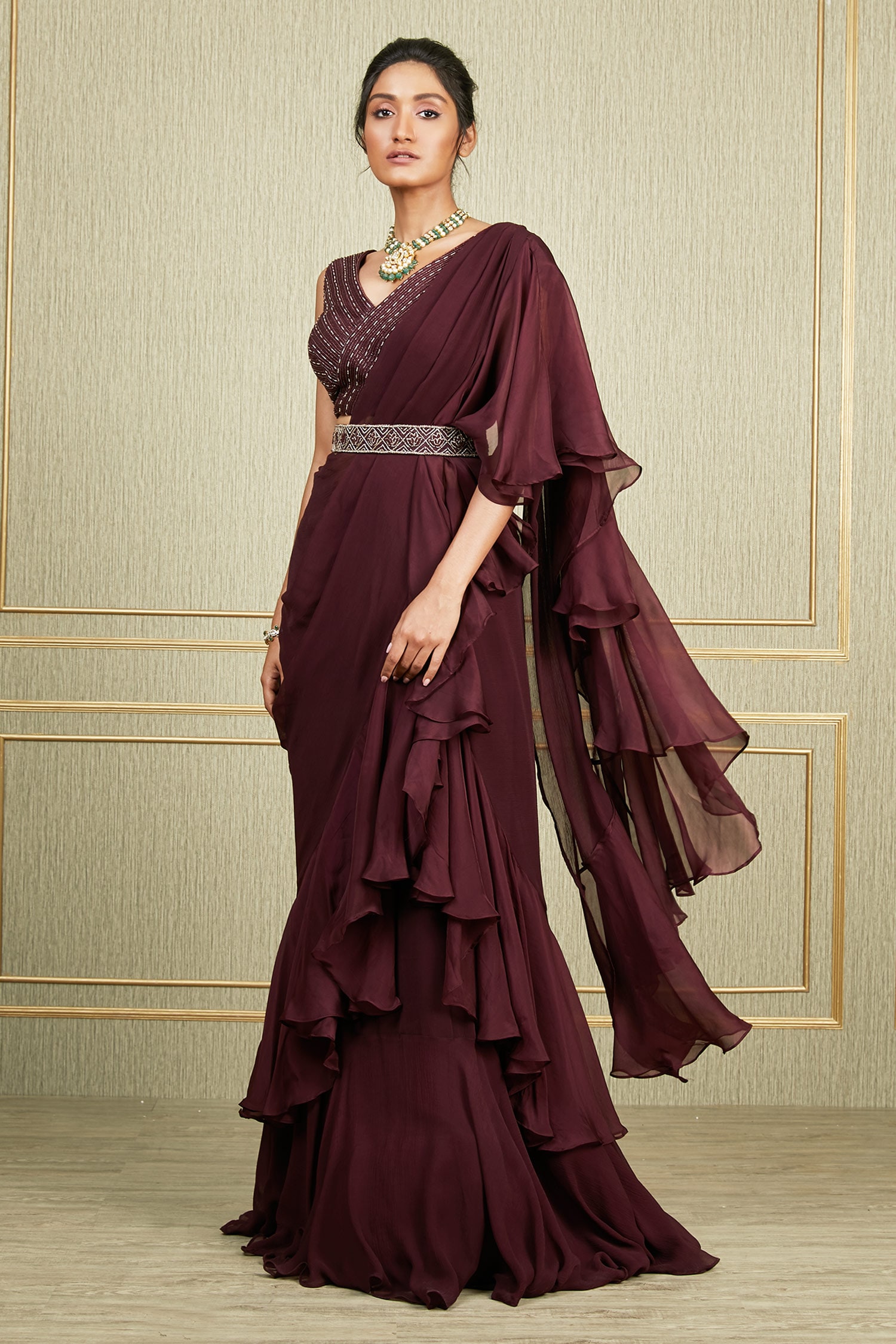 The flowy frill sarees or ruffle sarees are also one of the latest traditional trends ruling the ethnic fashion right now.
You will get beautiful readymade ruffle saree and also the basic pleated frill saree which you can pair with a fancy blouse having ruffle sleeves or bell sleeves. 
They are the most favourable choices of young girls as the saree gives them the right fusion of fashion and tradition at the same time.
The sarees themselves are so stunning that you don't need to add any extra accessories to make it look good.    
Conclusion
This is the list of some glamorous sarees which are in the latest trends and will help to upgrade your traditional look to something fancy and voguish.
 Whenever you choose the saree make sure you even pick the right accessories that match perfectly with the attire so that you can get a glowing look. 
Some statement jewelry that can be the real and expensive diamond or gold jewelry, the artificial or oxidized jewelry including some choker necklaces or the long rani haars, or colorful stone jewelry are some of the best options which you can go for. 
When it comes to footwear then you can choose flat or heels depending upon your height or go for something which you like the most. Once you are done with all the things you are perfectly ready for the occasion.  
Also Read About
Sarees: The most Recognizable Indian Dress for women.